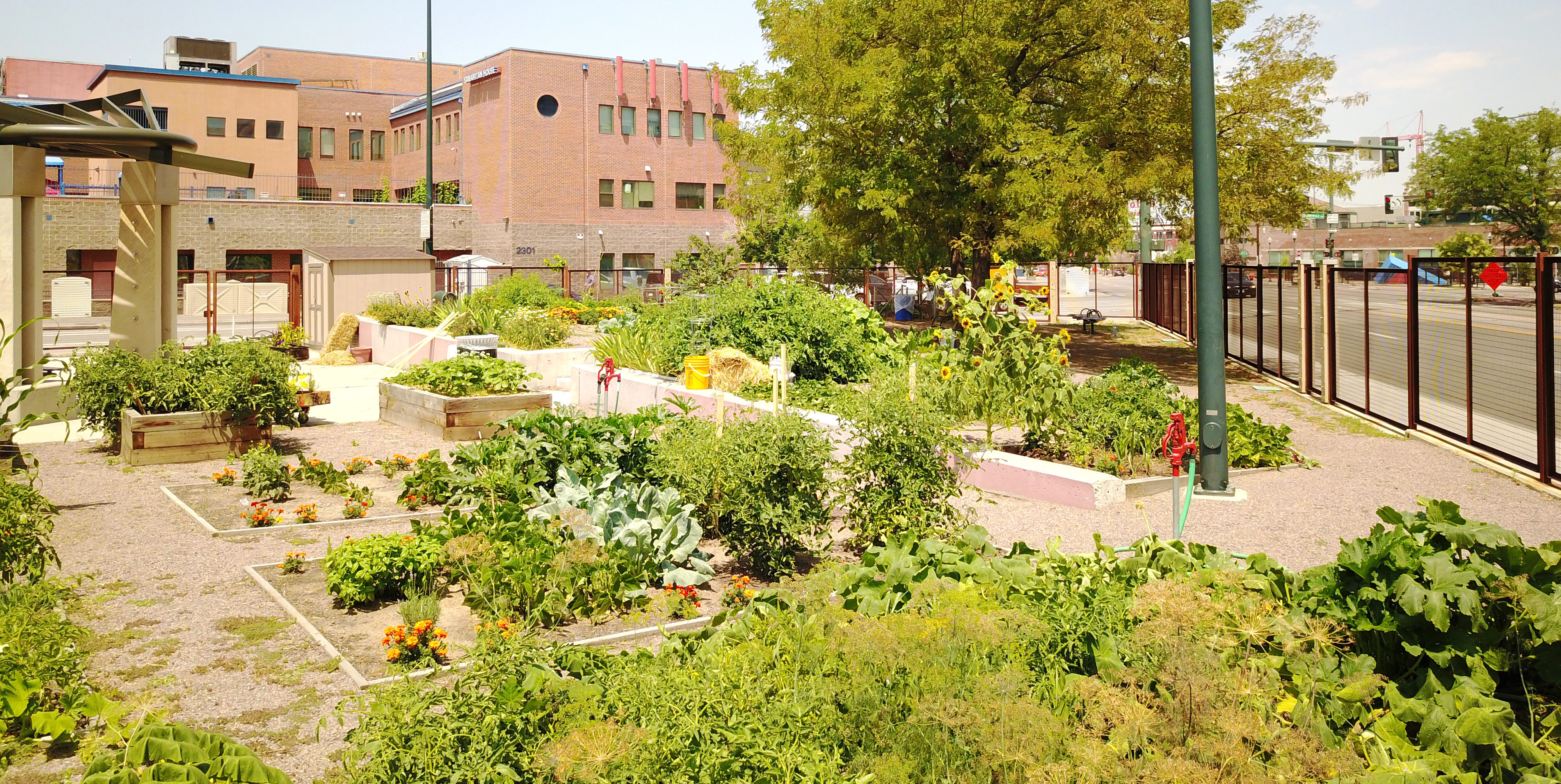 Urban Agriculture
StudioCPG designs urban gardens in many projects including, Community Gardens, Schools and Health Communities
Urban agriculture helps people connect with nature in their daily lives. These experiences cultivate a stewardship mindset, and StudioCPG is proud support these connections.
Significant design features typically include:
Gracious paths and beds that allow all users to access and work in the garden.
Comfortable places to gather and form community connections.
Trees and perennial gardens to provide year-round color and interest.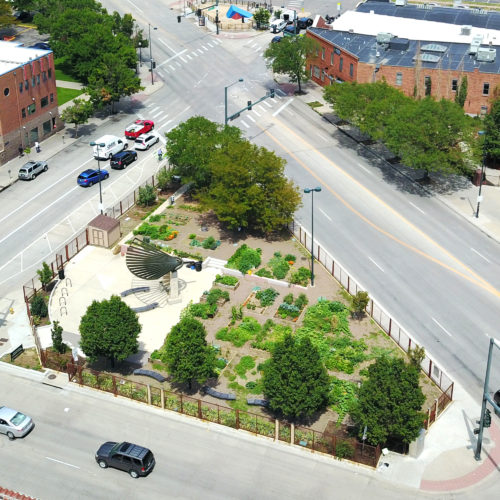 Eddie Maestas Community Garden
Denver, CO
In the heart of the ballpark district, Triangle Park was developed through a partnership between Denver Parks and Denver Urban Gardens. This garden space in the middle of the city now provides opportunities for residents, including people experiencing homelessness and accessing nearby resources at the Denver Rescue Mission, to grow vegetables and connect with the nature and the community.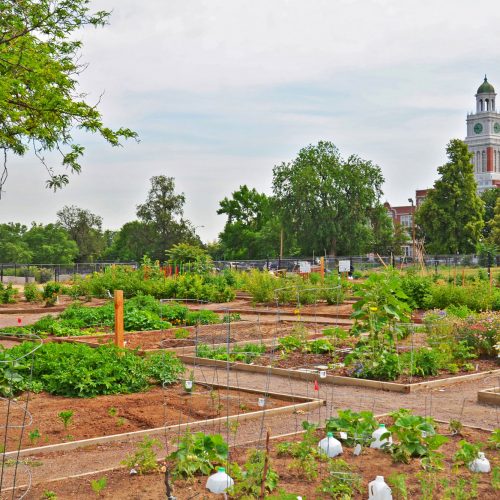 Josephine Interim Community Garden
Denver, CO
While the City was working through the design process for the future Carla Madison Recreation Center, the site provided a great opportunity for a temporary urban garden. Plots, paths, composting facilities and gathering spaces were quickly embraced by the community and utilized to their fullest until construction began.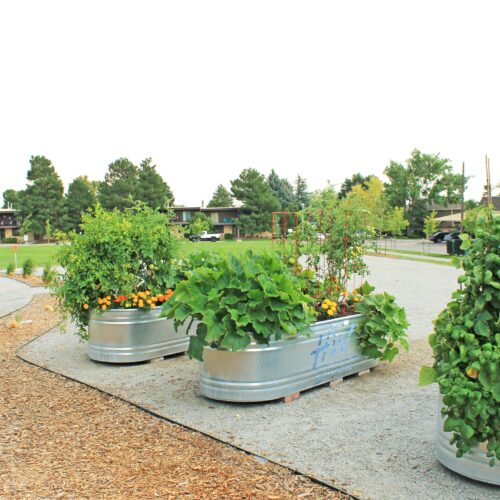 Shepherd of the Hills Presbyterian Church (SOTH Church) South Field Community Garden
Lakewood, CO
SOTH Church renovated the vacant lot south of their parking lot into a pocket park with a community garden, amphitheater, play field and picnic areas. The community garden and park is open to the public and helps the church reach out into the surrounding community.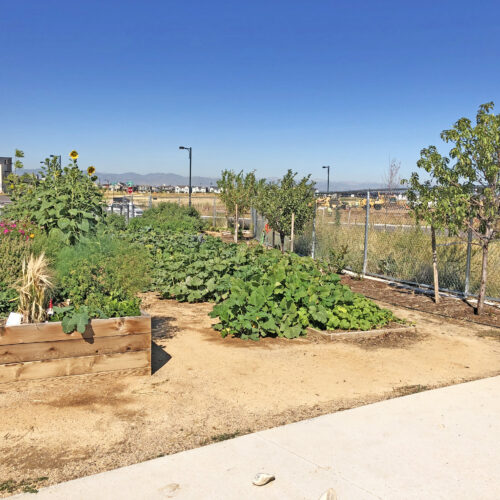 Park Street School
Community Garden
Garden beds are surrounded by the playground on one side and orchards and perennial beds on the other. These beds are a variety of shapes, sizes, and heights to accommodate different plants and the people tending them. Working components including compost bins and a storage shed. A group of picnic tables creates an outdoor classroom that is also used for community gatherings.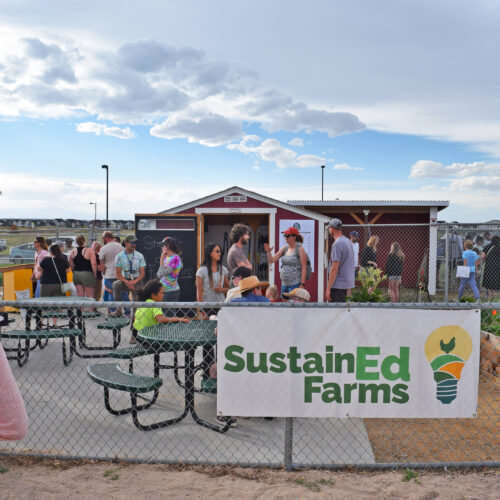 Park Street School
Farm
StudioCPG was contracted by Denver Public Schools and the Denver Green Schools Northfield, to build on the previously constructed community garden and provide site design for the Park Street Farm. StudioCPG collaborated and lead the design team starting in schematic design through construction.
The farm project includes a chicken coup, goat shelter and pen, and central gathering/outdoor classroom space. As a part of the SustainEd Farm and Denver Green School Northfield partnership this farm helps educate kids on the importance of healthy food and agriculture.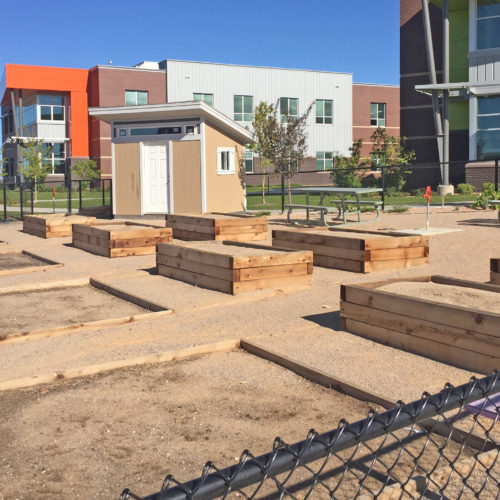 Regis Groff Garden
Denver, CO
Two schools on the Groff campus share the gardens there. Beds surround a gathering space, including a shaded outdoor classroom anchored by a garden shed. Grape vines and fruit trees at the perimeter attract pollinators to the garden. Compost bins support soil science curriculum.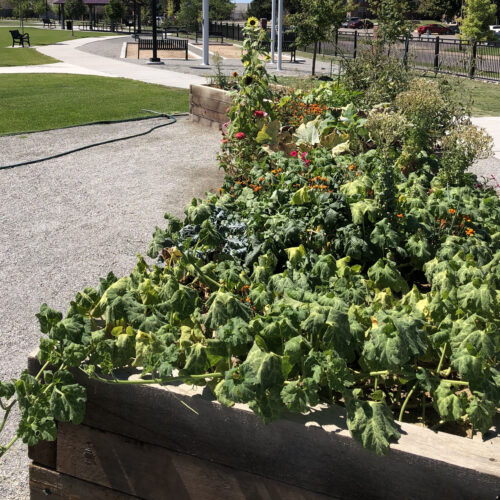 Meadows at Montbello VOA
Denver, CO
The Meadows at Montbello apartment buildings surround a park featuring walking trails, picnic tables, bocce courts and benches. Raised garden beds are a key feature of this park, focusing resident activities on connecting with nature.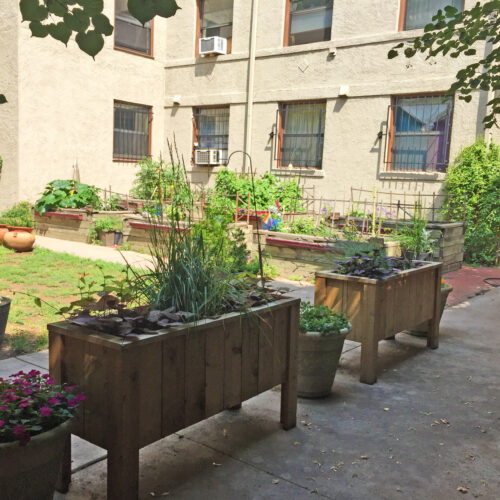 Olin Hotel
Raised garden beds are a central component of the courtyard gathering space at Olin Residential Hotel. The beds are all raised, with the edges that double as seat walls to support access for the senior residents.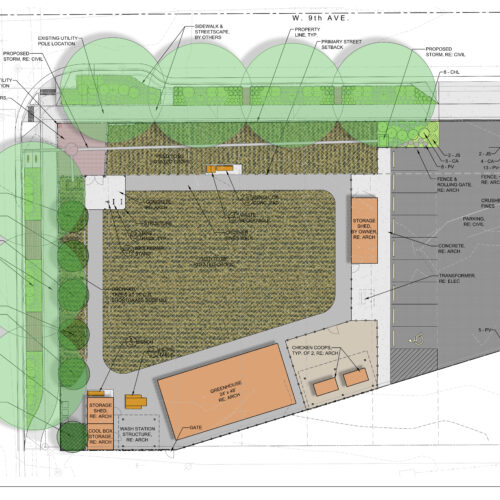 SVED Grow Garden
As the Sun Valley community redevelops, the Denver Housing Authority has prioritized a community garden for residents. Working with Denver Botanic Gardens, plans include mentoring, food distribution and sales to support these endeavors. The garden will include farm-sized beds, a small orchard, wash stand and storage facilities. Community gathering spaces are essential at this community entry space.